The development of international cooperation of Luhansk Taras Shevchenko National University is one of the priority directions of institutional activity, aimed, in particular, at further integration of the university into the world educational space, cooperation with foreign educational institutions, participation in international academic exchange programs, cultural exchanges, etc.
The development of international cooperation of the university is being constantly enhanced by a fully functional international service, represented primarily by International Relations Office headed by Doctor of Pedagogical Sciences, Professor, Iryna Viktorivna Myhovych.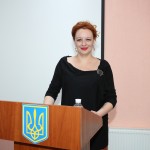 International Relations Office is the coordinating structural subdivision of the State Institution "Luhansk Taras Shevchenko National University", the activity of which is aimed at:
1. support for existing and introduction of new forms of cooperation with international organizations of various types and forms of ownership; with foreign institutions of higher education (public and private); with foreign scientific / cultural / sports institutions in accordance with the generally accepted concept of strategic partnerships;
2. organization of work on the formation and maintenance of the contingent of foreign citizens – students of the University (maintaining relations with graduates of the University – citizens of foreign countries; interaction with embassies (consulates) of foreign countries on the stay and education of foreign citizens);
3. expansion of geography of promotion of institutional brand and foreign promotion of the results of the institution in the educational / research/ cultural spheres;
4. assistance to all structural subdivisions of the University in the establishment and development of international cooperation, as well as in their participation in international educational and research programs, academic mobility programs, international rankings, etc .;
5. strengthening the capacity of the University at national and institutional levels through the development and implementation of international educational and research projects;
6. providing opportunities for students and research and teaching staff of the University to carry out educational and research activities in an internationalized institutional environment through the introduction of best foreign practices in the educational process and research, assistance in implementing international projects of various types and directions, recruiting foreign nationals. institution for the purpose of teaching, teaching or conducting research;
7. introduction and development of an institutional culture of openness and tolerance in order to attract foreign citizens and, accordingly, intensive use of the benefits of the internationalized intercultural environment for their own institutional development;
8. popularization of international and intercultural activities both inside the University and outside the institution;
9. promoting the formation of an educational environment at the University for all students and staff without exception, who have language, intercultural, entrepreneurial, etc. competencies that provide the ability to respond to global challenges of the XXI century;
10. promoting the formation of University graduates' abilities and skills that will allow them to compete confidently in the global / national / regional labor market and effectively carry out various activities in the global community.